Is your website growing faster? Or is your website traffic increasing? Then it might struggle to deliver the best performance that you need. While looking to upgrade your hosting plan, you might come across VPS hosting and wonder about its working. So, how does a VPS work?
With VPS you get the resources at a price lesser than a cheap dedicated server. It helps in improving the performance and security of your website and gets more conversions.
Working of VPS
First, let's check the basics of web hosting. Web hosting is an arrangement in which a site owner buys space on the server from the hosting company to store its files and databases.
A cheap VPS is an option that many site owners choose when their website starts growing and fall short of resources on a shared server.
Similar to shared hosting, a VPS is also shared between multiple users. But each website is allotted its own power as well as memory. This is possible due to a hypervisor that builds virtual environments by managing all the resources.
It means that rather than struggling for space and power on your server, you are given your very own by a VPS. Moreover, it also offers you the benefits such as dedicated storage, RAM, and other key resources.
Difference between a VPS and Shared and Dedicated Hosting
Apart from VPS, you can select dedicated and shared hosting. Each of them has its own pros and cons.
Dedicated hosting is similar to its name. Your site will have a complete server dedicatedly to it.
It is very useful for a website that requires more resources such as storage and memory. But this server comes at a very high price.
On the contrary, a shared server distributes the resources between multiple websites and accounts. It is similar to sharing a house with your roommates. Each one of you contributes to the bills, living in the same space with each other.
But, unlike a VPS, a shared server doesn't offer dedicated resources for your website. You will need to share the resources such as memory, storage, and power with other users. This might give rise to low performance and security issues.
A VPS acts as a hybrid of shared and dedicated servers. It offers you an independent virtual environment and keeps you separate from other users. A real-life example can be an apartment complex.
VPS is the best option if you have a surge in website traffic or getting slow performance. It can offer you enough resources without paying high as for a dedicated server.
Just one drawback, you need to have the good technical knowledge to manage a VPS as compared to a shared server. In case you aren't good at the technical side, get a managed VPS hosting plan to reduce your burden.
The Benefits of Using a VPS
VPS hosting offers you a unique set of benefits. It can deliver a faster loading speed as compared to a traditional shared server as well as offer enhanced.
Short loading times are significant for getting more traffic and conversions. A VPS guarantees you the resources your site needs.
It also helps in improving your user experience. If there are sudden traffic spikes, it can increase the website loading time, affect the complete performance and also frustrate visitors. In case, your visitors have to wait long for your website to load, you can lose them.
Moreover, a VPS is a cost-effective option that allows you to enjoy the benefits of a dedicated server without paying extra.
Also, Virtual Private Servers offer flexibility and scalability. For instance, if there is peak traffic on your website, you can achieve extra disk space, bandwidth, RAM, and other resources to complete your needs.
At last, what remains is the management of the server. You can always opt for a managed VPS hosting plan to get rid of the efforts of managing the server. You can invest the energy and time saved here for business growth
Check the below short review of MilesWeb's managed VPS hosting.
Introduction about the MilesWeb
MilesWeb caters to its customers with a wide range of hosting plans with VPS being one of them. The company got established in 2012 and ranks as the best web host globally. They are popular for their excellent customer support, affordable plans, and best uptime and performance.
Their team is available 24/7 to help their clients to manage their servers. In case of any trouble, you can contact them via live chat and email.
Managed VPS Hosting Plans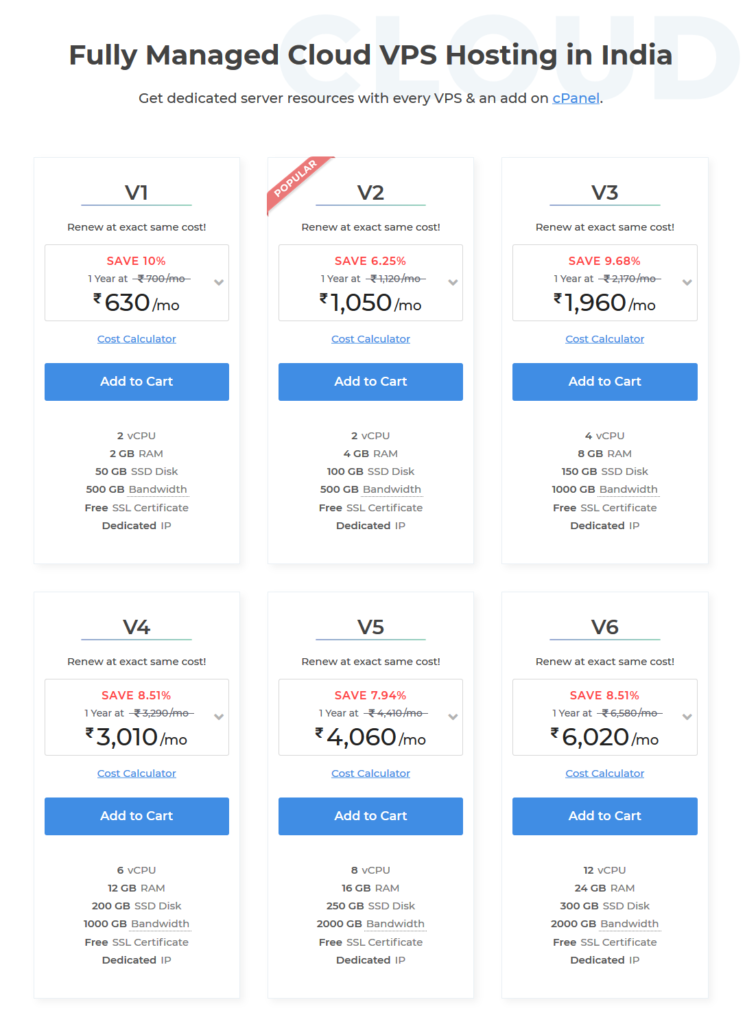 Managed VPS Hosting Features
Choice of Operating System
Choice of Management Panel
Cloud-Powered VPS
Enterprise-Grade Hardware
Free Website Migration
Solid-State Drives
Free VPS Management
SSH and Root Access
Resource Monitoring Dashboard
Host Unlimited Sites
Instant Provisioning
No Setup Fee
Robust Infrastructure
Customer Reviews

The Verdict
Looking to upgrade your web hosting plan for your growing website? MilesWeb's managed VPS hosting is the best swadeshi web host that helps in boosting your website performance. It will surely help you to gain more conversions.