By creating immersive and interactive learning environments, VR has the power to enhance student engagement, facilitate experiential learning, and bridge the gap between theory and practice. This article delves into the transformative impact of virtual reality in education and explores its numerous applications across various disciplines. Education has come a long way, from traditional classroom settings to online learning platforms. Even with these advancements, there are still limitations in terms of providing practical and hands-on experiences to students. This is where virtual reality steps in, offering a new dimension to education by providing realistic simulations and interactive experiences.
How VR Enhancing Student Engagement
One of the key advantages of virtual reality in education is its ability to captivate students' attention and enhance their engagement. VR provides an immersive environment where students can actively participate in their learning process, making education more enjoyable and memorable. Through virtual reality, complex concepts can be visualized, enabling students to grasp abstract ideas with ease. Traditional teaching methods often struggle to bridge the gap between theoretical knowledge and practical application. Virtual reality fills this void by creating realistic simulations that allow students to apply their learning in a simulated real-world context. Whether it's conducting scientific experiments, exploring historical landmarks, or practicing surgical procedures, VR provides a safe and controlled environment for hands-on learning.
Applications of Virtual Reality in Education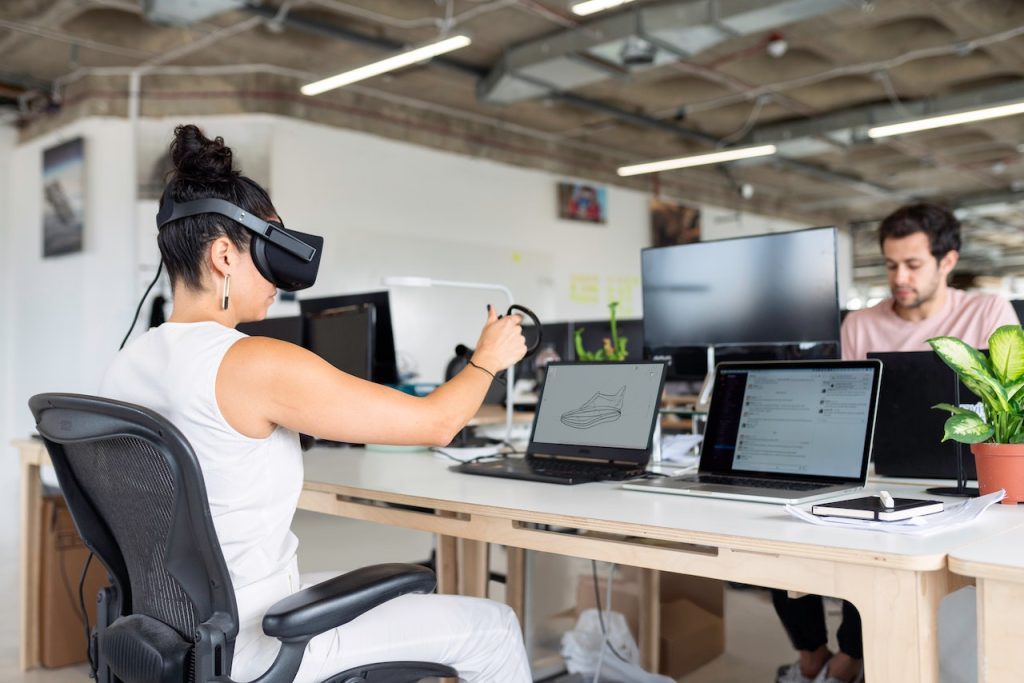 1. STEM Education
Science, Technology, Engineering, and Mathematics (STEM) education can greatly benefit from virtual reality. By enabling students to explore complex scientific concepts through interactive simulations, VR promotes a deeper understanding of these subjects. For instance, students can take a virtual journey inside a human body to study anatomy or conduct virtual chemistry experiments without the need for expensive laboratory equipment.
2. Historical and Cultural Education
Virtual reality allows students to travel back in time and experience historical events firsthand. They can explore ancient civilizations, visit historic landmarks, and interact with virtual historical figures. This immersive experience helps students develop a better understanding and appreciation of different cultures and historical periods.
3. Language Learning
Learning a new language can be challenging, but virtual reality can make it more engaging and effective. VR language learning programs provide interactive scenarios where students can practice conversations with virtual native speakers, enhancing their language skills and boosting their confidence in real-world situations.
4. Special Education
Virtual reality holds immense potential for special education, offering tailored learning experiences for students with diverse needs. For example, children with autism can benefit from VR-based social skills training, where they can practice interactions in a controlled and supportive environment. VR also aids in sensory integration therapy and helps students with disabilities overcome physical barriers to education.
5. Career Training and Professional Development
VR is a game-changer when it comes to career training and professional development. It enables aspiring professionals to gain hands-on experience in their chosen fields. For instance, aspiring pilots can practice flight simulations, medical students can perform virtual surgeries, and architects can design and explore virtual buildings. These virtual experiences prepare students for real-world challenges and provide a competitive edge in their careers. here you may know about the top-rated VR headsets for the learning experience.
FAQs about Revolutionizing Education with Virtual Reality
1. How does virtual reality improve student learning?
Virtual reality improves student learning by creating immersive and interactive environments that engage students in the learning process. It allows for the practical application of theoretical knowledge, enhances understanding of complex concepts, and promotes active participation.
2. Is virtual reality safe for students?
Yes, virtual reality is safe for students when used appropriately. VR experiences are carefully designed to ensure the safety of users. However, it is essential to set guidelines for VR usage, provide proper supervision, and ensure students take regular breaks to prevent any potential adverse effects.
3. Can virtual reality replace traditional classrooms?
While virtual reality offers unique learning experiences, it cannot entirely replace traditional classrooms. VR should be seen as a valuable tool that complements traditional teaching methods, providing additional opportunities for practical learning and enhancing engagement.
4. Are there any cost considerations for implementing virtual reality in education?
Implementing virtual reality in education does involve some initial investment. As technology continues to advance, costs are gradually decreasing. Additionally, the long-term benefits and improved learning outcomes justify the investment in VR technology.
5. What are the challenges of using virtual reality in education?
Some challenges of using virtual reality in education include the initial cost of implementing the technology, the need for proper training and technical support, and ensuring equal access to VR experiences for all students. Overcoming these challenges requires adequate planning, resource allocation, and collaboration between educators and technology providers.
6. What does the future hold for virtual reality in education?
The future of virtual reality in education is promising. As technology continues to evolve, we can expect more sophisticated VR applications and immersive experiences tailored to specific educational needs. Virtual reality has the potential to reshape the educational landscape, making learning more engaging, inclusive, and effective.
Conclusion
Virtual reality is revolutionizing education by offering immersive and interactive learning experiences. From enhancing student engagement and bridging the gap between theory and practice to transforming STEM education and facilitating career training, VR has the power to transform the way we learn. While challenges exist, the benefits of virtual reality in education far outweigh the limitations. As technology continues to advance, we can look forward to a future where virtual reality plays a central role in education, empowering students with new possibilities and expanding their horizons.